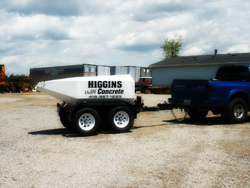 1 1/4 - Cubic Yard Concrete Trailer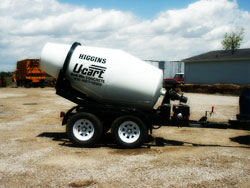 1 1/4 - Cubic Yard Mixing Trailer
Our 1-1/4 cubic yard concrete hauling trailer is raised and lowerd with a hand pump.



Specifications:


Capacity: 1 1/4 Cubic Yard
Loaded Weight: 5,999 lbs
Empty Weight: 1,400 lbs
Dump Angle: 60°



Features:


• Adjustable load leveling tow bar.
• Tandem axle design for stability
• Dump angle 60°



Uses:


• Haul mixed concrete
• Use with Wet Auger System
Our drum trailer hydraulically raises to assure maximum amount of material flow. Using reverse turn on the drum, and the continuous fin design, this drum assures the user easy dumping, and easy cleaning.



Specifications:


Capacity: 1 1/4 Cubic Yard
Loaded Weight: 5,999 lbs
Empty Weight: 2,000 lbs
Dump: Hydrolic Tilt
Lights: DOT approved

Brakes: 4-wheel hydrolic
Engine:11 HP Honda engine



Features:


• Adjustable load leveling tow bar.
• 11 HP Honda Engine
• Comlete Hydrolic Operation



Uses:


• Hauling concrete up to 40 miles
• Great for "On Demand" concrete.